2562: Abi reveals her cot death tragedy
Published May 12 2009, 00:02 BST | By Kris Green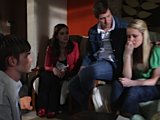 Having stepped in to cover the careers officer, Russ is struggling to cope with a confusing and largely sardonic group of students. Lauren won't take the session seriously, causing Russ to issue her with a stark warning of her listless future if she doesn't listen. Anita confesses to Theresa that she's done something nasty to get her own back on Lauren but refuses to say exactly what.
Later, Nancy convinces Russ that he shouldn't have gone off at Lauren and he eventually realises that he'll have to apologise. Meanwhile, Lauren can't stop panicking about her life and it takes a kind word from Newt to settle her down. A tender moment between the pair quickly turns into a kiss.
Russ seeks out Lauren and apologises to her for shouting, but Lauren sees through it and quickly fobs him off. Later, Gov announces a random locker search and Anita begins to panic, having hidden exam papers in Lauren's locker. She realises that she has to get them back before Gov discovers them. Anita tells Lauren what she's done and decides to start a fight with her as a diversion. Fortunately, it works and Gov hauls them off to his office before the incriminating evidence is found.
With the pressure building, Zoe runs into Adrian in the village and he reminds her that her film is due in tomorrow. When she bumps into Mike, he asks to see her film, causing her to really begin to panic - she's certain she'll be rumbled for plagiarizing his work. Zoe heads to the bar to drink away her worries and Adrian once again steps in to remind her that this really is her last chance…
Ste's in a mad panic as Mike asks him to babysit Lucas and Leah. Ste realises that the flat's a tip, so Abi and Natty dash round to help him clean up and he's pleased as punch with their efforts. When Daniel arrives later arrives, he voices that Ste's a good person who only wants the best for his family. When Mike turns up, he's suitably impressed by the condition of Ste's flat and, for once, is happy to leave the children in his hands.
Later, a livid Sarah spots Ste drinking a pint while having a picnic with Leah and Lucas. It takes Daniel's impromptu arrival to stop Sarah taking the kids away. Daniel can't believe Ste's idiocy and are forced to explain that their charity can only support well-behaved young couples - as long as Ste continues behaving in this manner, they won't get a penny.
Sarah phones Mike to let him know about Ste's drinking and when Mike arrives on the scene, he's disappointed by what he sees. As Mike begins to collect the children's belongings, Abi pleads with him to give Ste another chance, revealing that she once had a child but it died. Mike's heartstrings are tugged and when Abi reveals the horrific details of her and Daniel's cot death misery, Mike realises that Abi and Daniel can be a good influence on Ste. Natty, meanwhile, struggles to convince Daniel that Ste deserves their help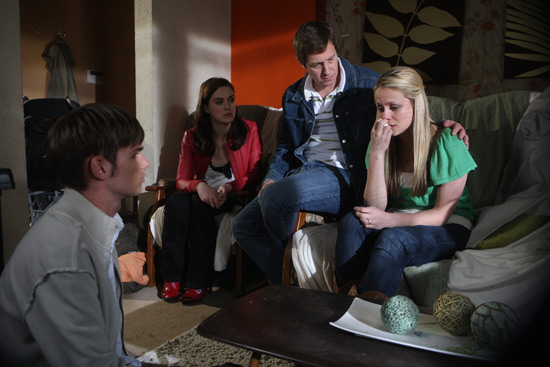 Abi tells Mike about the death of her child.