'Hollyoaks' Kieron Richardson interview: 'Doug's feelings shock Ste'
Published May 4 2012, 00:01 BST | By Daniel Kilkelly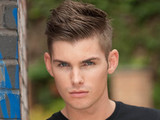 Hollyoaks
favourite Ste Hay is in for a surprise next week as he realises that his friend and business partner Doug Carter is harbouring romantic feelings for him.
As Ste gets to know new love interest Adam in the coming days, he's startled as it becomes clear that Doug (PJ Brennan) is jealous.
Confused by Doug's behaviour, Ste demands answers and the pair end up sharing their first kiss as tension rises. Is Ste about to fall in love for the first time since Brendan (Emmett Scanlan)?
Digital Spy
recently caught up with
Kieron Richardson
, who plays Ste, to chat about all things 'Stug' and 'Stendan'.
What was your initial reaction when you first heard about the Ste and Doug storyline?
"I had a big year last year with the Ste and Brendan storyline, so I'd kind of set myself up for having a quiet one this year. Obviously that hasn't happened, and it's an amazing feeling to know that you're coming into work to be really busy and have a storyline. It's great to have something to sink your teeth into.
"To top it off, working with PJ is incredible. We're friends anyway, so getting to work together as well is amazing. PJ is the kind of actor who doesn't just turn up on set and say his lines. Instead, we'll take the time to research things and give everything a bit of a backstory, so when we get onto the set we're really prepared. Hopefully that means the audience will believe in the stuff that we deliver."
As the story has created so much discussion, what's your take on the fan reaction?
"Obviously I know about the 'Stendan' fans and they message me every day on Twitter. Now we have these new 'Stug' fans too, so I'm just happy that my name's in both of them!
"It's good that people are interested, and I think any reaction is a good reaction. One of the reasons that we do this job is to get people talking, especially when it comes to quite sensitive issues. I think it can only be a good thing."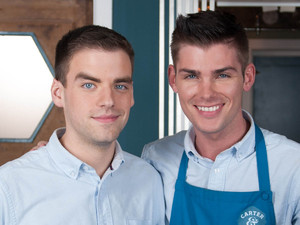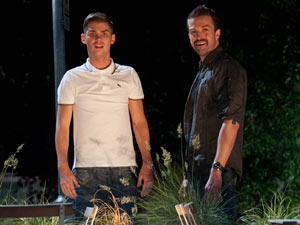 Your recent interview on Live With Myleene created a big reaction in particular!
"Well, I think the way that I worded it on
Live With Myleene
was making people think that me and Emmett were never going to work together again and that would be the end of 'Stendan'. But I just wanted to prepare people that Ste's life doesn't revolve around Brendan. At the same time, now that Ste's going off on this other tangent with Doug, it doesn't necessarily mean that he and Brendan won't be working together.
"I can't say whether or not Ste and Brendan are ever going to get back together, as even I don't know. Ste's life has taken on a new journey which doesn't involve Brendan at this immediate time, but as it's
Hollyoaks
and as Brendan is a huge scene-stealer, he will probably be turning up in several scenes!"
How does Ste react when he realises that Doug has feelings for him?
"I think he's just confused, shocked and taken aback at first. Since they've been working together on the business, I don't think Ste has fancied Doug or anything like that. He was just happy that he finally had a friend, because he's never really had a close mate who he can get along with.
"Now that it's going down a different path, that completely takes Ste by surprise. His life is going really well at the moment and I don't think he'd even been thinking about a relationship, especially after the year he's had."
There's also another guy called Adam involved, isn't there?
"Yeah, after signing up for the online dating website, Ste has been set up with Adam. But you'll see that Doug starts interfering. They go on one date, and Doug turns up with Texas and completely ruins it. Ste can't understand what his problem is, and he wonders whether Doug just doesn't want his friend to be taken away from him.
"Towards the end of the week, the two of them are having an argument over Adam and Ste just shouts out, 'Are you in love with me or something?!' It's really confusing for him."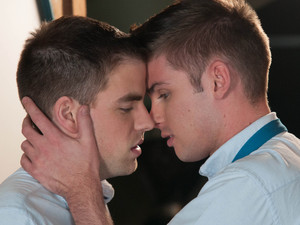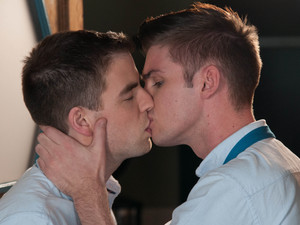 We know they share a kiss after that, but Doug is also struggling to come to terms with his sexuality. Will Ste be quite understanding and patient with him?
"I think so, because Ste's dealt with that himself. At first Ste thinks, 'Well, I came out this way and I managed to deal with it'. But then I think he realises - like I do myself - that everybody's coming out story is completely different.
"When it comes to sexuality, some people struggle to deal with it, while others are completely fine and open about it straight away. So as the show addresses Doug's sexuality, it's going to be different from the story we saw with Ste."
You've always had great on-screen chemistry with Emmett. Has it been easy to strike up something similar with PJ?
"When I finish a scene with PJ, I feel exactly the same - completely happy with it. I've managed to watch some of the scenes back that haven't been on screen yet, and I think the chemistry is just as good as what Ste and Brendan have got - if not better because you can see a love story blossoming.
"The good thing about Ste and Brendan was that you just never knew what was going to happen next in a scene. This story is told in a different way, but I think the chemistry's just as strong."
How will this story compare to the Ste, Brendan and Noah story we saw last year?
"When Ste came out of the relationship with Brendan and got with Noah, I think that was a complete rebound thing. Ste did love Brendan deep down and I think he was trying to use Noah to show that he could move on and make Brendan jealous.
"But so much time has passed now, and Brendan and Ste have not even kissed for eight or nine months. So I think in Ste's head, he's completely over Brendan, and it's nice to be able to start a new relationship from scratch and see what happens."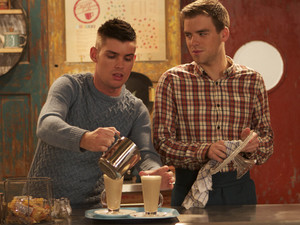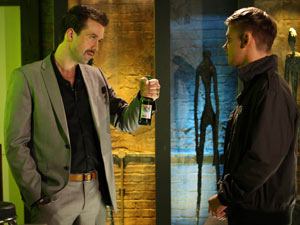 You've said in the past that you thought Brendan was the love of Ste's life. Do you still feel that way?
"There's no denying that Ste loved Brendan, it's just that the situation has turned nasty and maybe Ste does want to forget him. Hand on heart, I still would say that Ste loved Brendan - it just turns out that they can't be together right now. Even through all the bad stuff that Brendan did to Ste, he did love him otherwise he wouldn't have kept going back."
As Ste was redeemed after a domestic abuse storyline, would you like the show to explore a similar path with Brendan at some point?
"I think so, and I think we've dealt with the issue of abuse on the show really well across the board. Ste used to be abused by his stepdad Terry, then we did the story of Ste abusing Amy, and then it was flipped on its head with Brendan abusing Ste. We've told the story that you can go to counselling and there is help out there, so I think there is a chance that Brendan could do the same.
"But it's like the sexuality thing - every single person is completely different and goes down different avenues. It's whether or not that person wants to be helped. I think Brendan secretly likes being the outcast, the evil one and the person who causes trouble, so I'm not sure he'd even want to help himself."
We asked for fan questions and one was whether you'd like to do a Ste and Brendan two-hander episode to resolve some of their issues…
"I'd love to do something like that, but it's really awkward because I'm really proud of the stuff I've done with Emmett, and I'm also really proud of the stuff that I've done with PJ now. So even when I'm talking to the two actors - if I'm talking to Emmett, I feel like I'm cheating on PJ, and if I'm talking to PJ, I feel like I'm cheating on Emmett!
"If I say that I want to do a two-hander with Emmett, then I don't want to upset PJ! It's like real life now - it's getting too complicated. If it's having this effect on me, then I can only imagine what it's doing to the viewers!"
Emmett had his say at the British Soap Awards by telling us that Ste and Brendan were still in love…
"Well, I can guarantee that PJ would probably say something completely different and say that Ste loves Doug now! So I love it - everyone's got an opinion, it's very entertaining and it means that we are doing the job properly."
> Hollyoaks' PJ Brennan teases Ste, Doug, Brendan dramas - interview> Hollyoaks' Emmett Scanlan: 'Ste, Brendan plot is love story' - video> Read more Hollyoaks spoilers and newsHollyoaks airs weeknights at 6.30pm on Channel 4 with a first look screening at 7pm on E4.