Edna's dog Tootsie goes missing
Published Mar 2 2010, 00:02 GMT | By Kris Green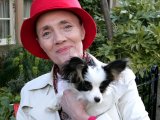 Edna's unforgiving when Carl apologises on behalf of the kids and when Anya goes to stroke Tootsie, Edna drags the dog away.
Laurel, meanwhile, is perturbed when she finds the door to Mulberry wide open but blames a forgetful Sandy.
Later, Edna lets Tootsie out for a run but she's distressed when the dog goes missing. Edna immediately insinuates that Thomas and Anya are to blame and as penance, Edna forces them to help search for Tootsie. Are the children to blame for Tootsie's disappearance?
Meanwhile, Debbie prepares to say her goodbyes but her impending departure only serves to provoke another argument between Charity and Cain.
Cain tries to convince Debbie to stay but is disappointed when he's unable to change her mind. Debbie finally says goodbye, before Andy takes her and Sarah to the airport.
Elsewhere, reality sinks in for Lisa when she receives a letter from her solicitor - she's struck by the prospect of not returning home following the court case.