'Emmerdale' Natalie Anderson: 'Alicia punches Val really hard'
Published May 22 2012, 10:36 BST | By Paul Millar
Warning:
This article contains spoilers that some readers may prefer to avoid. Please
click here
if you wish to continue.
Emmerdale
's
Natalie Anderson
has claimed that she punches co-star Charlie Hardwick "really hard" in upcoming scenes.
During next Monday's (May 28)
instalment
, Anderson's character Alicia Gallagher gives the interfering Val Pollard a bleeding nose after her opportunity to confess her love to David Metcalfe (Matthew Wolfenden) is dashed.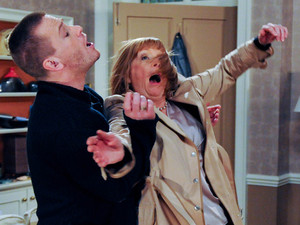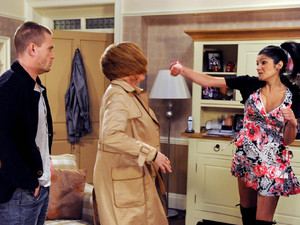 Describing the lead-up to the violent outburst, Anderson told
Inside Soap
: "Alicia's all set to let David know how she feels about him.
"She's been working up to this moment for months, but just as Alicia's about to tell David she loves him, Val bursts in.
"She starts laying into David about how useless he is, and Alicia loses her temper - as she often does! She hits Val really hard."
After Val contacts the police, it is revealed that Alicia has broken the terms of a previous suspended sentence and will go to jail.
Anderson added that Alicia is "crippled" by the "awful" prospect of losing Jacob for any period of time.
The 30-year-old actress added: "Alicia's not bothered by being in prison. She can hold her own - but she'll be so worried about what will happen to Jacob while she's away. It's going to be an agonising wait until the verdict comes in."