Digital Spy: Anna Williamson's Showbiz Peek at the Week
Published Nov 22 2011, 18:23 GMT | By Anna Williamson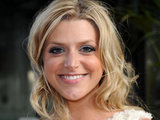 At risk of sounding like my Mum (which increasingly I do apparently), ooh where has the year gone... The Toys R Us advert is on a continual loop reminding us that lucky Geoffrey has 'millions all under one roof' at his disposal (you'd have thought he's got enough by now!), the Iceland ad is flogging its synthetic festive wares on a nightly basis, and my heating bill has already given me a slight coronary... Yep, the annual Christmas hysteria has arrived folks.
We've four weeks to go till the 'big day' and what a lot we've to look forward to... what with
Strictly
,
X Factor
and
I'm a Celeb
, we can look forward to our annual barrage of 'winners' - all of whom will be rinsing their new found fame (and earning potential) to death and appearing in a panto/work party/light switch on/*insert event here* near you.
One such candidate I'm sure will be our Craig Colton who, after much hanging on, fell victim to the first
X Factor
Deadlock of the series. This week was my 'turn' to go and hang out with the contestants and my my, what a show it was! Not least 'cos performing was... *shrieks slightly*... Rihanna! Yup, I was holding out for this one. Following the dressing down after her last
X Factor
outing (hmm it was precisely that that caused the damn complaints) pressure was on RiRi to toe the Cowell line. So, bursting onto stage in an untypically demure tartan frock, the checklist was ticked off... Boobs tucked up - tick, camel toe covered - tick; sighs of relief all round.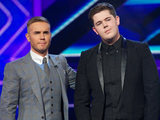 Until, shock horror, it appeared the cheeky minx had taken to her trainers with a Sharpie and emblazoned it with words certainly not suitable for my 11-year-old nephew. Oops. Tut tut. Still, t'was most amusing when she tried to exit the stage post performance only to find no bodyguard waiting dutifully, and faced with a wall of bemused cameramen had to settle for the lovely Warm Up man to save her blushes and get her back to her dressing room.
Craig sadly got biffed after losing out to Amelia. Was it the bad song choice, or the 'first up' curse... we shall never know. Shame, Craig is a good singer but that's it. Amelia however has it all... she needs to get to the final. If the stylists would please stop getting carried away with her doppelgänger and dressing her as Kat Slater, it would greatly improve her chances I reckon, for the girl really can sing. Listening to her live this weekend was a real treat.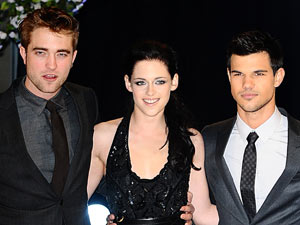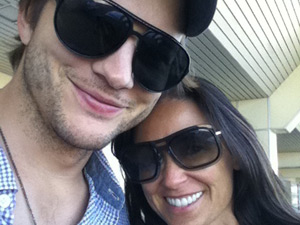 Now, I could bang on about
X Factor
all day but I won't (as I always do!), and it's been a busy week elsewhere in the world of showbiz. Demi divorcing Ashton, Hugh Grant's successful court injunction, Russell Grant dressing up as a cannonball, the longest red carpet EVER and scarily obsessed fans at
The Twilight Saga: Breaking Dawn
premiere, and - removed from the Saturday night TV shackles - Cocozza has been let loose on the general public - note to all... lock up your daughters!
Children in Need's annual telly takeover made for appointment to view viewing, and not just so because it makes us feel better about ourselves (but yes, I did donate as it happens *polishes halo*). The
Dragons' Den
sketch with Lord Sugar was much hyped but worth the wait. Go Lord Sugar - some genuinely funny 'acting' and hilarious put downs of the Dragons, more of this please!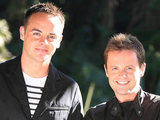 And of course, I can't sign off without mentioning the telly triumph that is
I'm a Celeb
. Ant & Dec have really upped the stakes this series - last year I thought they came across as a bit too predictable with the normally hilarious 'bits in between'. This year however, whether it's due to the recent swell in their bank balances after a cushty (yet deserved) mega bucks contract renewal or not, one cannot deny that the lads are on top form.
Funny, well-executed gags, everyone's best mates; thank goodness they are back on our screens every night. Forget a half starved, flatulating contestant getting the crown... everyone's favourite Geordie duo are the true winners of this show!
With it being Christmas 'n all (nearly), a quick plea if I may - please support the
Daybreak
'Donate a Coat' campaign. It's a really fantastic cause and is happening this week. Just check out
www.itv.com/daybreak
for details on how you can do your bit. Please do if you can!
> Catch-up on Anna's previous 'Showbiz Peeks at the Week'