Jolie 'never expected' to end up with Pitt
Published Jun 3 2008, 18:24 BST | By Beth Hilton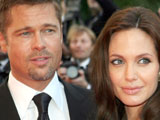 Angelina Jolie
has revealed that she never dreamed that she would end up with Brad Pitt.
The actress said she wanted to date a non-celebrity after her split from second husband Billy Bob Thornton.
She told
Vanity Fair
: "After my last divorce, I said I was absolutely going to marry somebody in another field, an aid worker or something.
"Then I met Brad - everything I wasn't looking for, but the best man, the best father I could possibly wish for."
Jolie, who is due to give birth to twins on August 19, added: "I don't see him as an actor. I see him very much as a dad, as somebody who loves travel and architecture more than being in movies."
The couple already have adopted children Maddox, six, Pax, four, and Zahara, three, as well as two-year-old biological daughter Shiloh.
> Angelina and Brad keep a gun