'Dancing with the Stars' JR Martinez, girlfriend expecting child
Published Dec 17 2011, 18:09 GMT | By Justin Harp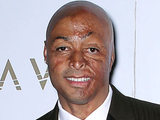 Dancing with the Stars
winner
JR Martinez
and his girlfriend Diana Gonzalez-Jones are expecting a baby girl together, it has been announced.
Martinez revealed on Saturday (December 17) that Gonzalez-Jones will give birth to the couple's first child in the spring.
The Iraq War veteran told
People
"We found out just last week it's a girl and we are over the moon.
"Diana has a little baby bump now and it's the cutest thing ever. With the holidays coming up, this is the biggest and best gift we could get."
The couple met on the set of Martinez's soap opera
All My Children
, where Gonzalez-Jones worked as assistant to the executive producer.
Martinez
triumphed
over fellow celebrities Rob Kardashian and Ricki Lake in the
Dancing with the Stars
finale last month, later claiming that winning the reality series
was one of the greatest accomplishments of his life
The actor
will be the grand marshal for the upcoming Tournament of Roses parade
in Pasadena, CA on January 2, 2012.
> Dancing with the Stars JR Martinez: 'I have a dark side'
> Dancing with the Stars JR Martinez: 'I don't always want to dance'