Aussie sports star Lydia Lassila welcomes baby boy
Published Aug 19 2011, 03:29 BST | By Rebecca Davies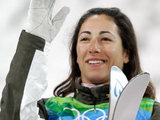 Lydia Lassila
has become a mother for the first time.
The 29-year-old Australian Olympic gold medallist skier, who is married to Lauri, said that her new son Kai Erik is a "little Viking" just like his father.
Lassila told
Woman's Day
magazine: "It's been a fruitful year! Kai looks nothing like me. With his bright blue eyes and blond hair, he is all Lauri's side of the family - except for having my earlobes and lips and a hint of my olive complexion.
"My brothers and I were born with dark eyes and skin and thick black hair, so I'm amazed every day by my little Finnish boy!"
Talking about the labour, Lassila said: "It's true that no-one can really prepare you for it or predict how long it will last - it's awful! I thought I had a high pain threshold, but the contractions were something else, just excruciating.
"It was the longest day that had the happiest ending. It was life-changing... We both knew things would never be the same, in the greatest way."
A number of Australian celebrities have recently welcomed new babies. Singer Felicity Urquhart
gave birth
to daughter Tia Joy, while Myer ambassador Rebecca Judd and her sports star husband Chris
have become parents
to son Oscar.