"World-famous actor" injunction extended by High Court
Published Jul 25 2011, 14:47 BST | By Mayer Nissim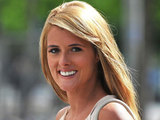 The "world-famous actor" who had a "sexual relationship" with former escort
Helen Wood
has had the injunction preventing publication of the affair extended.
On Friday, Mr Justice King relayed rules over the identification of the married actor, but upheld the gagging order,
The Guardian
reports.
King ruled that the man, previously described by the court as a "world-famous celebrity", may now also be identified as a "leading actor".
The court also said that
the affair - which the man has admitted -
can now be referred to as a "sexual relationship".
"It seems to me that this is material to the public debate about the class of person who is seeking these injunctions and the status they are seeking to protect when preventing the publication of private sexual encounters," King said.
> Helen Wood: 'I was offended by actor injunction'
> TV star granted worldwide gagging order
Wood, who also claimed to have
had sex with footballer Wayne Rooney while his wife Coleen was pregnant
, has offered information about the fling with the star to
The Sun
newspaper.
In granting the extension to the injunction, King noted that
The Sun
and Wood have not argued that publication of details about the affair are in the public interest.
The judge added that the actor was "likely to establish that he has a reasonable expectation that that which he does in his private life by way of sexual encounters, albeit with a prostitute, should be kept private".
Wood has recently said that
she does not regret hurting Coleen Rooney
when she allegedly slept with her husband because the celebrity columnist repeatedly reunited with the Manchester United striker.
> "World-famous" injunction actor confesses to wife
> Rooney prostitute for C4 Sugar Daddy show?