Crowe undergoing Achilles treatment
Published May 6 2010, 00:40 BST | By Paul Millar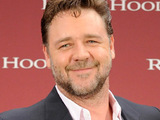 Russell Crowe
is to receive further treatment to repair a long-term injury sustained 12 years ago.
According to
IMDb
, the
Gladiator
actor snapped his Achilles tendon while filming 1998 hockey movie
Mystery, Alaska
.
He said: "I've been managing that [injury] for over a decade. I've actually shredded the tendon itself so blood can't get in to repair it.
"There is an operation where they'll detach it for you and clean it up and stick it back on but there's a 10 percent chance you will walk with a well-defined limp, and I've already got the limp."