Katona criticised by family campaigner
Published Apr 12 2010, 14:09 BST | By Daniel Kilkelly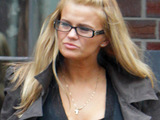 A family welfare campaigner has questioned
Kerry Katona
's decision to speak publicly about her drug use.
Dr Adrian Rogers - founder of pro-family pressure group Family Focus - claimed that Katona is a "worthless individual" if she has chosen to exploit her problems for personal gain.
In an interview published in the
News of the World
yesterday, the mother-of-four
confessed
that a serious cocaine habit often prevented her from spending time with her children and ultimately nearly killed her.
Responding to the revelations, Dr Rogers told the
Daily Star
that Katona's youngsters had suffered "appalling neglect".
He continued: "If she now intends raising her standards of care for her children that is to be praised.
"But if this is merely a publicity stunt, aimed at rebuilding her flagging career, then she is a worthless individual. Her youngsters appear to have had a pretty miserable life up to now - her priority should be to devote herself to them above all else."
Defending the TV star, Katona's agent Claire Powell said: "Kerry is desperate to change and do the best for her children and deserves a chance to prove it."