Katona admits drugs nearly killed her
Published Apr 11 2010, 10:34 BST | By Sarah Rollo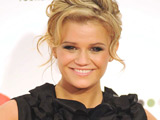 Kerry Katona
believes that she has wasted the past four years of her life due to a crippling drug habit which almost killed her.
The 29-year-old, who has been clean for three months, told the
News Of The World
that her life with
estranged
husband Mark Croft revolved around cocaine - and nothing else.
Rock-bottom self esteem coupled with the drug binges left Katona on a downward spiral which ended in depression and ultimately self harm. "I had to stop. I had to get out," she admitted. "No one was going to help me but myself. If I carried on doing what I was doing, I'd be dead. I want my children to have a better life than I had. That's why I know I have to sort myself out now."
Katona added that she blames herself for allowing Croft to waste her £6.8m fortune, explaining: "I let him take control. I thought that was him loving me. I didn't want him to feel like an outsider so I let him organise things. I can't blame him. I can't even blame him for the cocaine. He didn't pin me down and make me take it. It was our thing but not any more. We weren't good together - it had to end."
New manager Claire Powell imposed a ban on Katona returning to Mark, enforces weekly drug tests and sent Kerry to bootcamp where she went from a size 14 to an 8. However, the former Atomic Kitten admits that a boost to her self esteem has made the greatest difference.
"I can't go back," she said. "I've wasted the last four years but I'm getting healthy - I'm off my medication and I'm clean. Most importantly, I'm being a much better mum. I'm not going to let my children down. They need me and I need them."