Price's ex-friend 'upset by fling smear'
Published Oct 28 2009, 16:38 GMT | By Daniel Kilkelly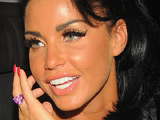 Katie Price
's former best friend Michelle Clack has reportedly been left devastated by claims that she is sleeping with Peter Andre.
Price made the
allegation
in her
OK
column yesterday, telling readers that she had heard Clack and Andre are an item.
'Behind Closed Doors'
singer Andre has already rubbished the suggestion, calling for Price to "move on" and stop spreading rumours about him.
A source close to Clack has now told the
Daily Star
: "Michelle can't believe Kate is saying this about her. They used to be really close friends, but she has just turned on her for no reason. She feels totally betrayed."
Clack, who was a bridesmaid at Price and Andre's 2005 wedding, is said to be happily married with a toddler and newborn baby.
Speaking about Price's recent behaviour, another insider said: "She's completely out of control. There's been lies, upon lies, upon lies. No-one knows what's happening anymore."
Price has also accused Andre of having flings with his manager
Claire Powell
and his children's
nanny
in recent weeks.