Peter Andre 'confronted by Price friend'
Published Oct 8 2009, 09:34 BST | By Daniel Kilkelly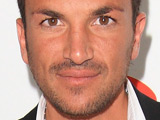 Peter Andre
was involved in an angry confrontation with one of Katie Price's closest friends during a night out in London this week, a report claims.
According to
The Mirror
, tempers became frayed when the popstar was approached by TV host Phil Turner outside the Mayfair Hotel.
It is thought that Andre had been dining at the hotel with his agent Claire Powell, Spice Girl Mel B and his other celebrity friends Chantelle Houghton and Nicola McLean. Meanwhile, Turner was enjoying a dinner of his own with husband Gary Cockerill six tables away.
Andre was reportedly approached by Turner outside after finishing his meal. He is said to have then warned the presenter off, telling him that he had "made [his] choice".
Turner allegedly responded by describing the singer as a "f**king b**tard", causing him to walk away and head for the casino downstairs. The argument is believed to have subsequently escalated with Cockerill, Houghton, McLean and Powell all getting involved.
A source said: "It's open warfare. Pete was having a nice relaxed night. But once Gary and Phil had had a few drinks, they were fired up and keen for a fight. Pete was having none of it though. He shrugged it off and went downstairs to the casino for the rest of the night."
Andre and Price were
granted
a 'quickie' divorce at London's High Court last month.