Thornton makes movies his priority
Published Jan 2 2009, 19:28 GMT | By Simon Reynolds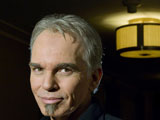 Billy Bob Thornton
has revealed that he has put his music career on hold to concentrate on film work.
The 53-year-old confessed that music is his first love, but starring in movies is more financially lucrative for him.
"I've got to do movies because they pay lots of money," he is quoted as saying. "I grew up in the old music business, so that's my first love."
Thornton has released six country-inspired albums, with his last record
The Boxmasters
arriving last year.