Lloyd's home destroyed by wildfire
Published Nov 17 2008, 21:38 GMT | By Sarah Rollo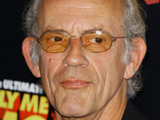 Christopher Lloyd
's home has reportedly been razed to the ground by wild fires which broke out in California.
The 70-year-old actor, who played Doc Brown in
Back To The Future
, was filming in Vancouver when the fire reached his property to the north of Los Angeles, reports the
Daily Mail
.
His $6 million (£4 million) home was one of about 100 affected by the blaze, which started in the San Fernando Valley on Thursday.
West Wing
actor Rob Lowe reportedly fled with his children as fire engulfed the mountain and flames shot 200ft in the air.
Lowe and Lloyd are among a host of celebrities who have properties in the secluded foothill area, including Jeff Bridges, Michael Douglas and Oprah Winfrey.