Outhwaite turns her back on Hollywood
Published Oct 23 2008, 15:50 BST | By Simon Reynolds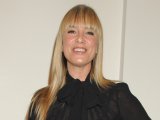 Tamzin Outhwaite
has claimed that she has no interest in trying to launch a career in the US.
Speaking to
Metro
, the actress claimed that the nearest she came to a Hollywood breakthrough was appearing in a Wesley Snipes action movie.
"I never really gave it a first go," she explained. "I'd go on holiday to LA and have meetings arranged by my agent but I was never there for more than a fortnight.
"You have to move there to do it properly. The closest I got was working with Wesley Snipes in
7 Seconds
, but we shot that film in Romania."
However, the former
EastEnders
actress suggested that her husband Tom Ellis has what it takes to become a success across the pond.
"He's 30, 6ft 3in and gorgeous, so I think he'd do better out there than me," she said.