World War II veteran graduates from college, aged 85
Published Jun 13 2012, 18:41 BST | By Paul Millar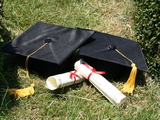 A World War II veteran has graduated from college at the grand old age of 85.
Joseph Pinsky took ten years to obtain a degree from Brooklyn's Kingsborough.
Graduating from high school in 1944, Pinksy would have completed his degree much earlier had it not been for the US involvement in the Second World War.
His wife Rosalind told
CBS News
: "I'm very proud of him because I asked him, 'What are you going to do when you retire? You have to do something'.
Pinsky chipped in: "I did that to waste time because she said, 'Get out of the house'."
Praising his fellow students, the grandfather added: "Believe it or not, working with young people, it was stimulating and they treated me like one of the group. It keeps your mind active, and that's important."
However, Pinksy's decade of study took a toll on his body, with his partner revealing that he suffered a fall while playing a video game on campus.
"I get to the school, I go in and he's surrounded by a load of women, he's playing some video games," she quipped.