Skepta vs. N-Dubz: 'So Alive'
Published Jan 26 2011, 18:15 GMT | By Mayer Nissim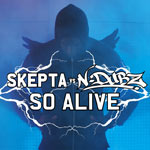 It's easy to laugh at N-Dubz. Dappy's interview outbursts, his TV appearances, alleged drugs indiscretions, text-threats and especially his hats have provoked many a smirk in recent years. All the while though, N-Dubz have amassed a substantial following - and with good reason. While they'll never win over everyone, especially those whose teenage years are sadly a distant memory, the Camden trio clearly mean something to a significant number of pop fans. As well as their glossy, synth-hook-laden hits, it's probably their euphoric against-all-odds attitude that reels in young people who still have enough life in 'em to dream.
Not for the first time, Dappy, Fazer and Tulisa have hooked up with London-based grime star
Skepta
to give their neatly-produced hip-pop a slightly grittier edge, and it just about works. On the downside there's Dappy's tired na na nai-ing and shout-out to his garish NaNa chain - on sale now! - which is sadly no match for Flavor Flav's clock collection. Also, the lyrics are occasionally laughable, especially when Fazer goes all
Pretty Woman
on us ("When I go to the Gucci store I dress rags / Security think that I ain't gonna buy s**t / Then I pull out my card, swipe it, bowl out with 20 bags"). Julia Roberts was famously smart enough to shop elsewhere when she was dissed... Big mistake Fazer. Big. Huge! Despite all that, there's somehow still enough weirdly catchy charm here to keep the N-Dubz juggernaut rolling on...

> Click here to watch the video for Skepta vs. N-Dubz: 'So Alive'