Keri Hilson: 'Energy'
Published Sep 11 2009, 15:22 BST | By Nick Levine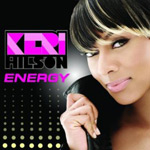 To begin with, a recap. 'Energy' was supposed to come out last Autumn, but after it stalled at #78 across the pond,
Keri Hilson
's label pulled the plug on its British release. Now, following her recent top five success with
'Knock You Down'
, it's getting a belated shot at UK chart glory.
Was it worth the wait? Well, not really to be honest. Despite its glistening production, this synthy R&B ballad falls into the solid but unspectacular category. "I don't want us to be the end of me, this love is taking all of my energy," Hilson sings on the chorus, but her vocals are a little too controlled to convey these anguished emotions. Still, it's already become her first UK chart entry without a mate to hold her hand, which is a success of sorts.

> Click here to read our review of Keri Hilson's album