Rebecca Ferguson: 'Heaven' - Album review
Published Dec 2 2011, 17:56 GMT | By Robert Copsey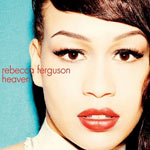 It's no secret that
X Factor
runners-up often get a sweeter deal than the winners themselves. Series 5 "losers" JLS are now three successful albums into their career, while 2009's silver medallist Olly Murs topped the charts last week with his latest set. In fact, there are so many of them clogging up the charts this year that we initially feared the worst for
Rebecca Ferguson
.
Fortunately, it would seem the best has been saved for last. She may have been branded "the shy one" on last year's show, but there's plenty of evidence here to suggest she won't take any crap (she insisted on co-writing each of the album's ten tracks) - or at the very least, write a heartbreaking song about it somewhere down the line. The result is the simplistic, soul-pop sound heard on lead single
'Nothing's Real But Love'
.
Her vocal - somewhere between Corinne Bailey-Rae and Macy Gray - remains the star attraction throughout. R&B-tinged 'Glitter & Gold' is punchy but remains unembellished in its production, 'Shoulder to Shoulder' is an emotional tale of dysfunctional love told over a raw piano hook, and the jazzy 'Mr Bright Eyes' provides a moment of light relief in which she sounds genuinely happy.
Elsewhere, she continues to distance herself from her reality show roots - though it's without the anti-pop or 'Credible Cardle' spiel. 'Diamond to Stone' oozes class that few would expect from a former contestant, while closer 'Too Good to Lose' will please fans that gravitated towards her club classics persona. Overall,
Heaven
is a stunning debut that is far from being a boundary-breaker, but revels in sticking to what it knows best.

Tracks to download:
'Shoulder to Shoulder', 'Too Good to Lose', 'Teach Me How to be Loved', 'Glitter & Gold'
If you like this, you'll like:
Corinne Bailey-Rae, Adele
Watch the music video for 'Nothing's Real But Love' below: