Jay James Picton debuts 'Long May They Roll' remixes - listen
Published Aug 3 2012, 15:16 BST | By Robert Copsey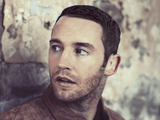 Jay James Picton
has unveiled three remixes of his new single 'Long May They Roll'.
The singer's new track - which is out August 27 - has been reworked by Malay, RackNRuin and Eyes. Listen to the mixes below:
US multi-instrumentalist Malay has previously worked with the likes of Frank Ocean, John Legend, G-Unit and Andre 3000, while RackNRuin is a rising UK producer signed to Black Butter Records.
Meanwhile, Brighton-based Eyes is responsible for remixes by Cher Lloyd, Labrinth and Fenech-Soler.
Listen to the original version of Picton's 'Long May They Roll' below: