Jedward beat Blue at Eurovision 2011
Published May 15 2011, 09:15 BST | By Colin Daniels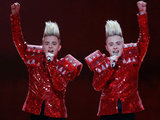 Jedward
beat Blue at last night's Eurovision Song Contest in Düsseldorf, Germany.
The competition saw 25 countries battling for victory, with Azerbaijan emerging as the winners with Ell/Nikki's 'Running Scared'.
Former
X Factor
finalists Jedward, who performed their track
'Lipstick'
, finished in eighth place, securing 119 points for Ireland.
> Eurovision Song Contest 2011: The Results
> Poll: What was your favourite Eurovision performance?
> Jedward: 'Eurovision will make us world-famous'
Blue, meanwhile, received 100 points to place 11th on the scoreboard with 'I Can'. Member Duncan James had earlier admitted that the band were aiming to
land in the top five
.
The band took to their official Twitter page to thank their fans, saying: "We were really pleased with our performance and hope the UK & our fans around Europe are proud of us. Thanks for your support."
Jedward had been confident about their entry,
insisting that they would receive more points
than their UK rivals.
Both Jedward and Blue are represented by the same PR company.
> Blue's Duncan James targets Eurovision top five
> Watch: Eurovision's best losers
> Read our full Eurovision coverage
Watch Jedward's Eurovision performance below:
Watch Blue's Eurovision performance below: