Spacey welcomes New York Dolls to Old Vic
Published Mar 14 2011, 12:25 GMT | By Mayer Nissim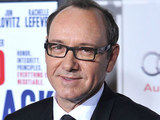 Kevin Spacey
has said that New York Dolls are the "perfect fit" to play a pair of live shows at London's Old Vic Tunnels club.
The actor and artistic director of the Old Vic Theatre has welcomed the punk band ahead of their live shows on on March 30 and 31.
Spacey said: "I'm excited that the Old Vic Tunnels are becoming a cool new scene for live performance.
"The New York Dolls inspired the punk movement, so they are the perfect fit of glam and anarchy to launch our live music series under Waterloo Station."
He added: "In addition, a new rock band called The Shoestrung will open both shows, who are also worth checking out."
New York Dolls today
released
their fifth studio album
Dancing Backward in High Heels
.