Natalie Portman wanted for Wachowskis' 'Jupiter Ascending'
Published Jan 5 2012, 08:36 GMT | By Hugh Armitage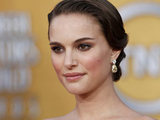 Natalie Portman
is being pursued to star in
Jupiter Ascending
.
The Wachowskis want the
Thor
actress to appear in their upcoming science fiction movie, reports the
Los Angeles Times
.
Lana Wachowski and Andy Wachowski are due to begin work on
Jupiter Ascending
once they have finished work on their highly-anticipated
Cloud Atlas
.
This would likely be
Oscar winner
Portman's first acting role since the
birth of her son
in mid-June 2011.
Jupiter Ascending
would united the actress with the filmmakers, who she previously collaborated with on
V For Vendetta
.
Cloud Atlas
features an all-star cast including Tom Hanks, Hugo Weaving, Susan Sarandon, Halle Berry and Jim Broadbent.
Shooting is expected to begin on
Warner Bros
'
Jupiter Ascending
in autumn 2012.
> Natalie Portman voted Digital Spy readers' favourite actress of 2011
> Natalie Portman, Mila Kunis, Johnny Depp top IMDb most-viewed for 2011