Morris: 'Four Lions is good-hearted'
Published Jan 31 2010, 23:10 GMT | By Catriona Wightman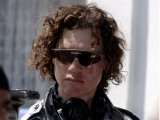 Chris Morris
has insisted that his new film
Four Lions
is "good-hearted".
The movie, about four Muslim men planning a terrorist attack, premiered at the Sundance Film Festival earlier this week.
"I feel in a weird way that this is a good-hearted film," the
Daily Record
quotes Morris as saying. "It's not a hate film, so I hope that aspect would come through."
Morris added that he had been inspired by a real terror attempt in Yemen, in which a group of men had tried to blow up a US warship.
He explained: "So they gathered at 3am, put their launch in the water, filled it with explosives... it sank. And I thought, so you've got five jihadis standing around, staring at each other, what are they going to say, what are the looks on their faces going to be like?"
Morris also claimed that the film is not intended to offend anyone.
"We ran a screening for the cast and crew in Sheffield, where we shot the film," he said. "Muslims were laughing at it, white Sheffield footballers were laughing at it."
The film's star Riz Ahmed recently
claimed
that the movie is not about terrorism but about the relationships between its characters.
> Preview: Chris Morris comedy 'Four Lions'