Ford to star in JJ Abrams comedy
Published Dec 10 2008, 19:04 GMT | By Simon Reynolds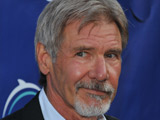 Harrison Ford
has revealed to
MTV
that he will star in
Morning Glory
, a comedy produced by J.J Abrams.
The movie revolves around a female news producer who recruits a veteran broadcaster in an attempt to boost the ratings for her flagging breakfast show.
Ford will play the anchorman, while Reese Witherspoon is rumoured to be in the running for the female lead.
Notting Hill
director Roger Michell is attached to the project.
Ford also voiced his desire to reprise his role as CIA agent Jack Ryan, a character he played in
Patriot Games
and
Clear And Present Danger
.
"I think it's a character I could easily play at this point if people were interested in seeing what happens to Jack Ryan as his life progresses," he said.