'Hollyoaks' special to get new social TV experience
Published May 29 2012, 14:12 BST | By Andrew Laughlin
A
Hollyoaks
special next month is to get an innovative new social TV experience, after Channel 4 teamed up with Bauer Media's
Heat
magazine.
Heat4…Live! is a dual screen experience that will run on E4.com and Heatworld.com, providing companion content around three key episodes of Channel 4 shows this summer, starting at 6.30pm on June 8 for the
Hollyoaks
'Savage Party' special.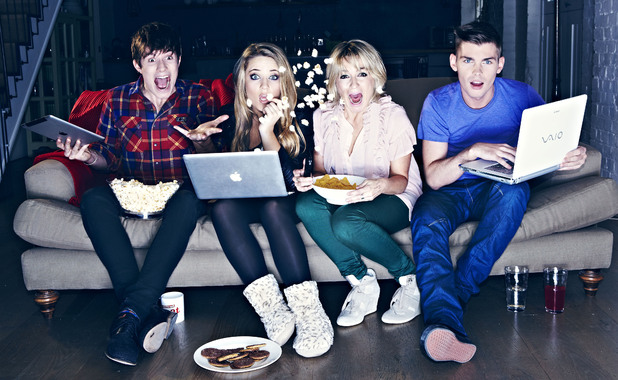 The service will act as a 'second screen hub' when the show is on, as well as host a live and interactive 'show-about-the-show' for 15 minutes after the programme ends.
Bauer Media created the campaign after Channel 4 issued a call for "an innovative and noisy new platform that speaks to Channel 4's core values, providing a richer viewing experience for fans of C4's shows".
Heat4 seeks to take advantage of a growing trend of "dual-screen" behaviour, involving viewers accessing social networks and companion online content while TV programmes, such as
The X Factor
and
The Voice UK
, are being shown live.
As
Hollyoaks
is being aired, the Heat4 experience will serve up bespoke companion content and curated Twitter feeds, which Channel 4 hopes will "create an experience akin to the audience watching telly together and bantering with friends".
Broadcast live from a London living room, the show will include appearances from cast members and Skype chats with celebrity fans.
The second-screen experience will 'spring to life' on E4.com and Heatworld.com as the show starts, and will exist in companion mode throughout the duration of the 10-week campaign as a bespoke entertainment hub on both sites.
Heat4 will be run live for episodes of two other Channel 4 shows this summer. The identities have not yet been announced, but they are likely to be more youth-oriented programmes, potentially on E4.
"We are thrilled to be producing this brilliant campaign in partnership with Channel 4," said Lucy Banks, the executive creative director of Bauer Media.
"It allows us to use heat's ability to ramp up engagement and 'editorialise' excitement about great Channel 4 shows with this ground-breaking new format that rewards their viewers - and ours - with an even deeper experience of the stuff they love best."
Channel 4's acting head of marketing James Walker added: "The way people watch TV is changing all the time and we're constantly looking to create new and exciting ways that bring audiences to, and engage them with, our shows.
"Combining
Heat
's strong editorial with Channel 4's great programming will make for a really captivating viewer experience and we've loved working with Bauer to bring Heat4 to life."
Heat4 comes as
Heat
prepares to launch a new celebrity and music TV channel on July 3, as a joint venture with Box TV and Channel 4.