BBC 'to cut 12% of jobs'
Published Oct 9 2007, 11:29 BST | By Joanne Oatts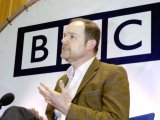 The BBC is getting ready to axe 12% of its staff, according to reports.
The
Financial Times
claims that over 2,000 BBC staff are to go, with factual programming to be the hardest hit be the cuts.
Such a move still has to be approved by the BBC Trust, but it is believed director general Mark Thompson is looking for annual savings of around 6% of the corporation's £3 billion yearly budget over next five years. Thompson's plans are likely to be outlined at a BBC Trust meeting scheduled for next Wednesday.