Freeview readies 'summer of HD sport' ad campaign
Published May 31 2012, 14:41 BST | By Andrew Laughlin
Freeview
, the UK's digital terrestrial television platform, is launching a new advertising campaign focusing on the availability of high definition coverage of the 'summer of sport'.
A new TV advert, launching on ITV1 tomorrow night, celebrates "how families, friends and colleagues will come together this summer to watch the very best sporting events on Freeview HD".
Created by the Leo Burnett agency, the 40-second film takes the viewer on a journey around a seemingly deserted British town.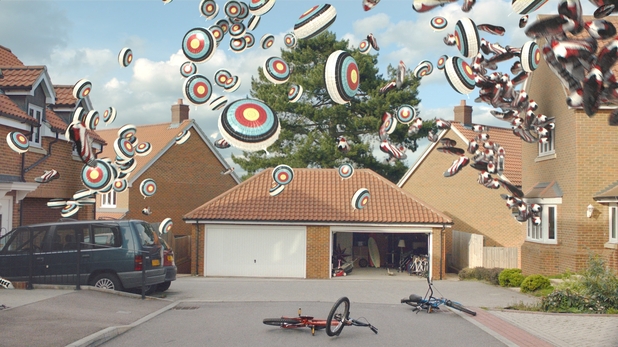 As the commentary of live sport coverage comes into focus, it is clear that everyone is glued to their sets watching the action on television.
The cheers of people watching grow louder, as the advert reaches its crescendo with torrents of sport-themed balloons bursting out of windows and doors.
This continues the theme of helium balloons as seen in
a recent Freeview advertising campaign
.
It comes as the British public prepares for a mouthwatering summer of live sport, including Euro 2012, Wimbledon and the Olympic and Paralympic Games.
"Freeview has always had a genuine desire to provide great TV for free," said Freeview's head of marketing Owen Jenkinson.
"This summer we will be offering people the best seat in the house to watch the thrilling sporting action in glorious HD without the worry of how much it's going to cost them each month."
The Freeview ad campaign launches on ITV1 on Friday night and will run up until August 27 on ITV, Channel 4 and UKTV channels. It will also be supported by radio spots on the Global radio network and TalkSport, along with video pre-rolls on 4oD and ITV Player.
Freeview has also developed a series of 'countdown clocks' using a visual technique called cinemagraph, helping people plan their TV viewing. These digital calendars are available from the Freeview website and Facebook page.
Freeview is the UK's most watched digital television service, serving more than 20m homes including 11m on the main living set, according to figures released by Ofcom.
> Fifth Freeview HD channel slot still up for grabs
> YouView starts public trial ahead of long-delayed launch