'Antiques Roadshow' goes digital in BBC's first 'companion experience'
Published May 3 2012, 18:50 BST | By Andrew Laughlin
The BBC's much-loved
Antiques Roadshow
series is to go digital with a new multiplatform game, marking the corporation's first ever public launch of a 'companion screen experience'.
A "Guess the value" game will accompany the new series of
Antiques Roadshow
in September, tapping into viewers' pastimes of guessing the value people's antiques will get from the experts.
Available on PC, tablet, mobile or via the BBC Red Button, "Guess the value" will be used alongside the live broadcast of
Antiques Roadshow
, or via catch up on BBC iPlayer.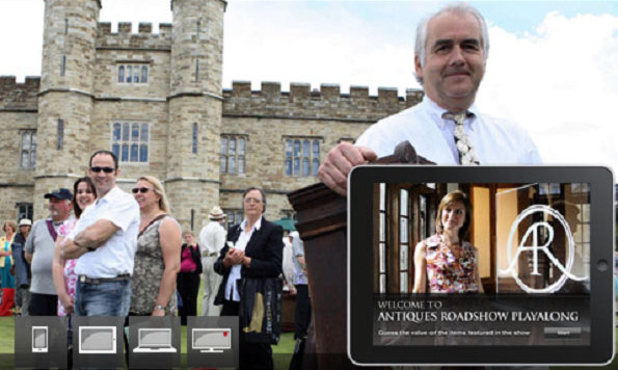 Audiences will be able to play at expert or amateur level, and then choose from four value ranges for each antique item on the show. The valuation is against the clock, before the answer is revealed on the TV.
Anyone who needs help with their valuation can 'Ask the Nation', showing what other players are estimating as the value in real time. At the end of each episode, players are given a final score and can find out how they ranked against others taking part.
Alongside the game, the service will also invite users to explore more information about the featured antiques and historical stories mentioned.
This will mark the BBC's first ever public launch of a companion screen experience for one of its shows, following recent closed trials around
Secret Fortune
and
Frozen Planet
.
Victoria Jaye, the BBC's head of IPTV and TV online content, said that companion experiences are about "taking viewers on a journey beyond where the broadcast programme can go".
"
Antiques Roadshow
is a perfect series to develop a companion experience around. We're tapping into existing audience behaviour - viewers have been shouting at their TV screens for years, guessing the value of items featured in the programme," she said.
"We're also taking viewers on a journey beyond where the broadcast programme can go, providing in-depth content about the stories and the history behind featured antiques in the programme, drawn from across BBC Online and other trusted sources. It's a great example of how we can creatively renew our audiences' enjoyment of watching a much cherished BBC programme."
Antiques Roadshow
executive producer Simon Shaw added: "We're delighted to welcome the companion screen experience to the
Antiques Roadshow
. Our viewers love the rich mix of stories, surprise and learning from our team of experts.
"Now they'll be able to really test their skills at playing the valuation guessing game and seeing how well they do against the rest of the nation."
The
Antiques Roadshow
companion screen experience will launch in September in time for the first episode of the next series. The corporation has not indicated which mobile and tablet operating systems will be supported.