Live sport boosts Radio 5 Live audience
Published Feb 3 2011, 09:58 GMT | By Andrew Laughlin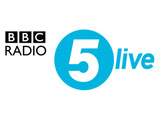 Live sport such as England's Ashes tour of Australia and Premier League football helped BBC Radio 5 Live to post its biggest ever audience last year, the latest listening data has revealed.
Radio 5 Live added nearly a million listeners over 2010 to reach 7.09m in the three-month period from September 20 to December 19, according to figures supplied by the Radio Joint Audience Research (RAJAR) board.
The 'Sony Station of the Year' saw its weekly reach increase from 6.3m in the previous quarter, while its audience share was up to 5.3% from 4.7%.
5 Live Breakfast
, hosted by Nicky Campbell and Shelagh Fogarty, attracted 600,000 more listeners to 3.17m.
In a bumper period for talk radio stations, the UTV Media-owned TalkSport passed the 3m mark for the first time, up 23.7% year-on-year to 3.1m, with a 2.3% share of the audience.
Buoyed by the most successful BBC Proms ever, Radio 3 attracted a weekly audience of 2.22m listeners, up from last quarter's 2.15m. The station's share was 1.2%.
"These figures show that listeners' appetite for distinctive, high quality radio is as great as ever. They also mark a milestone for digital radio, with a quarter of all listening now taking place through a digital device," said Tim Davie, director of BBC Audio & Music.
"I'm delighted at Radio 5 Live's success - a tribute to its unparalleled commitment to high quality coverage of news and sport - while Radio 3's sustained performance following the BBC Proms is a great achievement."
The BBC's total share of the radio audience was 55.3%, increasing its lead over the commercial radio stations to 12.8%, up from 10.8% in the previous quarter.
BBC Radio 1 attracted 11.42m listeners per week over the quarter, down from 11.65m in the previous three-month period. The station's share, at 8.8%, was also down on last quarter's 9.1%.
The Chris Moyles Show
had 7.45m weekly listeners, up from 7.10m last quarter.
On BBC Radio 2, the station's weekly reach of 13.94m was up on last quarter's 13.68m, while its share of 16.2% was also up from 15.6%.
The Chris Evans Breakfast Show
attracted 8.72m listeners every week.
BBC Radio 4 attracted 10.32m listeners a week, slightly down on last quarter's 10.37m. Its share was 12.1%, up from 11.8% in the previous quarter. The
Today
programme drew in 6.63m listeners per week over the period, up from 6.51m.
In the BBC's digital-only services, BBC 6 Music had 1.14m listeners, down from 1.20m in the previous quarter. BBC 1Xtra grew its audience to 816,000 a week, up from 806,000, while BBC Radio 7 posted a reach of 941,000 listeners, down on last quarter's 1.05m.
The BBC Asian Network - which is still facing the axe under BBC plans - marginally increased its audience to 477,000 from 462,000 last quarter.