ITV confirms McKellen 'Prisoner' remake
Published Jun 30 2008, 15:23 BST | By James Welsh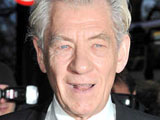 ITV has confirmed that Sir Ian McKellen will star alongside
Passion of the Christ
actor Jim Caviezel in a "reinvention" of 1960s cult thriller
The Prisoner
.
The reversioned series, to be made with American cable channel AMC, will take the themes of socio-political commentary present in Patrick McGoohan's original and use them to "reflect 21st century concerns and anxieties, such as liberty, security and surveillance".
In the new six episode run, Sir Ian will play the role of Number Two, who battles to keep Caviezel's Number Six trapped in The Village as he struggles to find out where he is and how to escape to his previous life.
"For those of us who were watching grown up TV in the 60s The Prisoner was dangerous, exciting and challenging TV," said John Whiston, director of ITV Productions. "For those of us who were too young to stay up to watch the series, it casts a long shadow. You don't embark on something this iconic without the best team around to do it justice for a whole new era."
Bill Gallagher, who counts
Lark Rise to Candleford
and
Clocking Off
among his credits, has penned the new series, with Jon Jones serving as director.
"I was haunted by The Prisoner when I saw it as a boy on its first broadcast," said Gallagher. "Here was something that was more than television, something I couldn't quite grasp but couldn't let go of. It's a unique opportunity for a writer to be able to go back to The Village and tell some new stories about that strange place and its surreal menace. We have a terrific cast and a wonderful director, so we hope to serve up something as beguiling and disturbing as the original was."