'Sensible World of Soccer' on Xbox Live
Published Jul 9 2007, 09:49 BST | By David Gibbon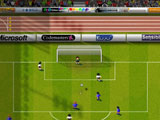 Regarded by many as one of the most playable games of all time,
Sensible World of Soccer
is to appear on Xbox Live Arcade August 29, Codemasters has confirmed.
In return for 800 Microsoft points (£6.80), gamers will be able to download and play the classic 1990s hit.
Created by renowned developer Jon Hare,
Sensible World of Soccer
became something of an institution during its Commodore Amiga days thanks to its simplistic graphics and highly tuned, realistic gameplay.
The title, which was named as one of the top ten most influential games of all time at this year's Game Developers Conference, will also be released for PC later in the year.
David Solari, Vice President of Codemasters Online Gaming, said: "
Sensible World of Soccer
is a seminal title which delivers a very pure gameplay experience. It's fabulous to get such an accolade and we are really looking forward to bringing this classic game back on Xbox Live Arcade and PC later this year. We think it's important to stay true to the original and we'll be delivering what fans of the original SWOS have been eagerly waiting for years, SWOS online multiplayer!"