Nintendo eShop update: 'Frogger: Hyper Arcade Edition'
Published Jul 12 2012, 08:32 BST | By Scott Nichols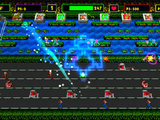 Frogger: Hyper Arcade Edition
headlines this week's Nintendo eShop update.
The arcade classic is returns updating the traffic-dodging coin-op with new game modes and visual styles inspired by classic Konami games.
Frogger: Hyper Arcade Edition
is available in the Wii Shop for 1000 Nintendo Points.
The 3DS eShop gets an update with the personal photo booth of
Sparkle Snapshots 3D
, which also offers DLC for a 'Mario Core Set' and 'Mario Kart 7 Set' to customize photos with Nintendo stickers and themes.
Theatrhythm Final Fantasy
also receives new DLC songs this week including 'The Archylte Steppe' from
Final Fantasy 13
, 'Matoya's Cave' from
Final Fantasy 1
, 'Battle 1' from
Final Fantasy 3
and 'The Final Battle' from
Final Fantasy 5
.
Meanwhile, new titles
99Seconds
and
Topoloco - Crazy About Topography
are now available in both the 3DS eShop and on DSiWare.
> Read last week's Nintendo download update
This week's eShop update in full:
3DS eShop
Sparkle Snapshots 3D (£4.50)

Zombie Slayer Diox (£5.40)

Mutant Mudds demo (Free)
3DS Game Add-Ons
Theatrhythm Final Fantasy
The Archylte Steppe (FF13 - FMS) (£0.90)

Matoya's Cave (FF01 - FMS) (£0.90)

Battle 1 (FF03 - BMS) (£0.90)

The Final Battle (FF05 - BMS) (£0.90)
Sparkle Snapshots 3D
Mario Core Set (£0.90)

Mario Kart 7 Set (£0.90)
DSiWare
99Seconds (200 Nintendo Points / £1.80)

Topoloco - Crazy About Topography (500 Nintendo Points / £4.50)
WiiWare
Frogger: Hyper Arcade Edition (100 Nintendo Points)