PSN Update: 'Gravity Rush', 'Babel Rising'
Published Jun 13 2012, 18:28 BST | By Liam Martin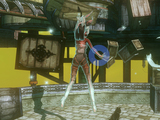 Gravity Rush
headlines this week's PlayStation Store update.
The highly rated PlayStation Vita title will be available to download from Friday, June 15 for £29.99.
It is joined by PS3 tower defence game
Babel Rising
and top-down racer
Bang Bang Racing
, both of which can be downloaded for £7.99.
Elsewhere, PSOne classic
Arc the Lad III
makes its debut on PSN, alongside PS2 game
Football Generation
.
Sniper Elite V2
, meanwhile, welcomes the
'Assassinate The Führer' mission, which was previously available as a pre-order bonus
.
There's also new content for
Saints Row: The Third
,
Marvel Pinball
and
Disgaea 4
.
> Read last week's PlayStation Store update
This week's update in full:
PS3 Games
Alien Breed Trilogy - £17.49

Babel Rising - £7.99

Bang Bang Racing - £7.99

Rune Factory Oceans - £39.99

StarDrone Bundle (includes PS3 and PS Vita versions) - £3.99

Two Worlds II VELVET Game of the Year Edition - £19.99

PS3 Demos


Babel Rising

Bang Bang Racing

PlayStation Vita Games


Gravity Rush - £29.99

PulzAR - £1.59

PlayStation Vita Demos


Escape Plan

PS2 Classics


Football Generation - £0.99

PSOne Classics


Arc the Lad III - £3.99

minis


Top Trumps NBA All Stars - £2.99

PS3 Add-ons

Atelier Meruru: The Apprentice Of Arland


Pamela - £3.19

Birds Of Steel


Map Pack 1: Battle Of Britain - £4.79

Planes Pack 1: P-47 Thunderbolt & Os2U Kingfisher - £3.99

Disgaea 4


Fish Strong! - £1.59

Medic - £2.39

Necromancer - £2.39

Overlord's Castle Map - £0.79

Dragon's Dogma


From A Different Sky – Part 4 - £0.79

LittleBigPlanet 2


Tron: Legacy Pack - £2.39

Marvel Pinball


Marvel Pinball: Avengers Chronicles - £7.99

Saints Row The Third


Witches & Weiners Pack - £1.99

Sniper Elite II


Assassinate The Führer - £8.79

Soul Calibur V


Sexy Costumes 1 - £1.99

Test Drive Unlimited 2


Ferrari 599XX - £0.79

Harley Davidson Fatboy Lo - £0.79

Tron : Evolution


In-Box Maps, Characters And Avatars - £3.19

Pre-Order Character – Clu - £0.79

Pre-Order Character – Gibson - £0.79

Pre-Order Character – Quorra - £0.79

Wheels Of Destruction


Expansion Pack 1 - Free

Who Wants To Be A Millionaire


Who Wants To Be A Music Millionaire? - £2.39

PlayStation Vita Add-ons

Escape Plan


The Asylum - £0.21

Table Football


Match Day Game Pack - £0.79

PlayStation Vita Sale


Escape Plan - Was £9.99 – Now £7.29

Hustle Kings - Was £6.49 – Now £4.79

Motorstorm RC - Was £4.79 – Now £3.99

Tales From Space: Mutant Blobs Attack! - £5.49 – Now £3.99

Top Darts - Was £6.49 – Now £4.79

Super Stardust Delta + Advanced Star Fighter Pack - Was £7.99 – Now £5.49

Watch a trailer for Gravity Rush below: