Apple rejects iPhone C64 emulator
Published Jun 21 2009, 12:24 BST | By Mark Langshaw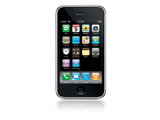 Apple
has rejected an officially-licensed Commodore 64 emulator due to the application's violation of its SDK agreement.
Danish studio Kiloo Aps and
Flashback
developer Manomio collaborated on the project for over a year, creating an accurate emulation of the C64's keyboard-equipped hardware.
The software is unlikely to appear on the App Store, due to a clause in the iPhone SDK agreement which states that: "An Application may not itself install or launch other executable code by any means." The emulator is in violation of this clause as it allows users to 'boot' C64 disks.
Manomio CEO Brian Lyscarz is said to be frustrated by Apple's decision, pointing out that other sanction Apps do not abide by the clause, such as Sega's
Sonic The Hedgehog
and Z-machine interpreter
Frotz
.
Lyscarz also said that he is still hopeful that the emulator will be approved in one form or another.