Amitabh Bachchan's 'Muqaddar Ka Sikander' to be remade
Published Apr 29 2012, 19:52 BST | By Priya Joshi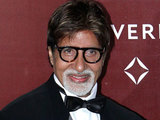 Plans are underway for a remake of
Amitabh Bachchan
's
Muqaddar Ka Sikandar
According to
Masala.com
, the late Prakash Mehra's sons - Sumit, Punit and Amit - who own the worldwide rights to all Prakash Mehra's films are planning to remake all of Amitabh Bachchan's movies.
Talking about the 1978 blockbuster, Amit Mehra said, "What I love about
Muqaddar Ka Sikandar
is that every protagonist in the film, including Amjad Khan Saab, is a passionate lover.
"The remake would have to be cast very carefully. We don't have too many actors today who can pull off the role of intense lovers."
According to a source, Amit plans to cast Abhishek Bachchan in the role of Sikandar.
The Mehra brothers are currently involved in the
remake of the 1973 film Zanjeer
and are reportedly planning reboots of
Laawaaris
,
Sharaabi
,
Namak Halaal
,
Hera Pheri
and
Haath Ki Safaai
.
Amitabh Bachchan described
plans to remake Zanjeer as 'flattering.'