'X Factor' Australia's Natalie Bassingthwaighte scared of glaring contestant
Published Sep 19 2011, 07:02 BST | By Rebecca Davies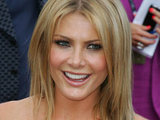 Australian
X Factor
judge
Natalie Bassingthwaighte
has revealed that she was scared when contestant Paige Phoenix gave her a death stare last week.
The 35-year-old psychotherapist, who shared his experiences as a female-to-male transsexual on the reality TV contest, was visibly furious with Bassingthwaighte when she eliminated him from the boot camp round.
After Phoenix glared at Bassingthwaighte she said that she was scared and has now told the
Herald Sun
: "That was meant to be off camera. It was very uncomfortable [but] it's always hard when you don't make it to the very end and you almost get it and it doesn't happen.
"I'm emotional at the best of times but I've never felt more emotional than I have during this show. It is a reality show, but it's really people's lives. It is their dream. You're making or breaking someone's everything. But it's not the end."
> Mel B blasts fellow Aussie 'X Factor' judges
> Natalie Bassingthwaighte: 'Mel B needs a slap'
Bassingthwaighte added: "You kind of forget there is this story. Paige is a guy. You never really questioned it."
The
top twelve X Factor contestants
were revealed last week and included Tyla Bertolli, Andrew Wishart, Jacqui Newland, Reece Mastin and Declan Sykes - who
recently opened up about his autism
.
Watch one of Paige Phoenix's auditions on
The X Factor
Australia below: